Veneers are a Versatile Means to Achieving a Confident Smile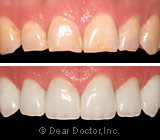 Nothing says confidence like a bright, beautiful smile. But problems with your teeth's appearance — discoloration, abnormal shapes, or gaps — may be giving you reasons not to smile. If so, you may be a candidate for porcelain veneers.
A veneer is a thin covering of porcelain or other dental material permanently attached to the face of a tooth to improve its appearance. Veneers help resolve a variety of aesthetic issues: their life-like color can brighten dull, stained teeth; they can "lengthen" shortened teeth caused by wear or normalize congenitally misshapen teeth; they're also helpful in reducing small gaps or used in conjunction with orthodontics for more serious misalignments.
The first step to a better smile with veneers is to assess your teeth's current condition and develop a treatment plan. Your input is extremely important at this stage — what changes you believe would improve your smile. We would also offer valuable insight, based on our knowledge and experience, into what is realistically possible and aesthetically appealing regarding porcelain veneers.
Once you have decided to go forward, the next step is to prepare the teeth for attaching the veneers. Depending on their size and location, this preparation can range from no tooth structure removal to a relatively small amount of structure. If the latter is needed, we remove only what's necessary to achieve the aesthetic result since structural reduction isn't reversible.
After preparing an impression of your teeth, we would send it and other instructions to a dental technician to create the permanent veneers. In the meantime, we'll install a temporary set for you to wear while the permanent set is under construction.
Once we attach the permanent veneers, they will adhere so securely a drill or laser would be needed to remove them. We achieve this attachment by creating microscopic pores on the face of the teeth and the inside of the veneer with a mild acid solution. The bonding cement seeps into these pores and creates a strong bond that virtually unites the tooth and veneer into one.
Although your new veneers are made to last, you'll need to maintain them like your other teeth, with a little added caution when biting and chewing. All in all, though, you'll be able to smile again with confidence — for many years to come.
If you would like more information on porcelain veneers, please contact Dr. Nick Pournaras by calling (803) 794-5430 to schedule an appointment for a consultation. You can also learn more about this topic by reading the Dear Doctor magazine article "Porcelain Veneers."
Related to This