It Can Pay to Spend on Dental Implants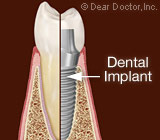 If you're missing a tooth, you're not alone; in fact 35 million Americans are missing all of their teeth in at least one jaw! Whether it's one tooth or many, it's important to replace what's missing. Depending on the number of teeth lost, the potential drawbacks to doing nothing may become hard to ignore: impediments to eating, interference with speech, and unaesthetic appearance, for example.
Traditional bridges and dentures are the most affordable options for replacing teeth. Tooth implants — tiny titanium, screw-like substitutes for a tooth's natural root to which natural-looking dental crowns are attached — are pricier but offer an important extra benefit. In addition to addressing the common problems previously mentioned, by acting like the original tooth root, an implant can maintain or stimulate "remodeling," of the jawbone below. Without a tooth root to provide stimulation, mature bone cells will continue to be removed, or resorbed, but no new bone cells will regenerate to replace them, leading to a progressive loss of bone width, height and density. The more teeth are lost, and with less bone structure to support it, the whole shape of the face can change.
Unfortunately, when greater numbers of teeth must be replaced, implants can become financially unrealistic for some people. But in appropriate cases there is a third option: a bridge or denture/implant hybrid. In the case of a bridge intended to fill a gap when multiple teeth are missing, an implant can be used on either side of the gap to support the bridge, leaving the natural teeth undisturbed. Strategically placed implants can be used to support a removable denture, too.
If you would like more information about dental implants, please contact Dr. Nick Pournaras by calling (803) 794-5430 to schedule an appointment for a consultation. You can also learn more about this topic by reading the Dear Doctor magazine article "Dental Implants: Your Best Option For Replacing Teeth."
Related to This