The Warning Signs of Gum Disease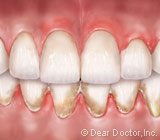 Periodontal or gum disease is a serious condition that could lead to tooth and bone loss. Unfortunately, you may not even realize you have it — the disease in its early stages can be difficult to detect. If you know what to look for, however, a few signs can tell you something isn't quite right.
Bleeding gums after brushing, for example, are a likely indication that your gum tissues are inflammed due to an infection caused by bacterial plaque. Coupled with chronic inflammation from the body's response to the infection, the unhealthy tissues bleed easily.
As the disease progresses, you may also notice changes in your gums' appearance: redness at the gum line, as well as some slight swelling. Receding gums expose more of the tooth below the enamel crown. As roots become exposed to the oral environment, you'll begin to notice painful sensitivity to hot or cold. In time, the disease may cause bone loss producing other signs like loose teeth or teeth shifting from their original position.
In some cases, gum disease can cause a painfully acute abscess. This occurs when the bacterial infection becomes isolated in a pocket of space between the teeth and gums. As the body attempts to fight the infection, its defenses are overwhelmed and the abscess becomes painful, swollen and filled with pus.
If you encounter any of these signs, it's important to take action quickly to minimize the damage and stop the disease's progress. Our first priority is to remove as much bacterial plaque and calculus as possible and may consider antibacterial and antibiotic treatments. This may take more than one session, but it's necessary in stopping the disease.
Long-term success, though, will depend on improved oral hygiene (brushing and flossing), regular office cleanings to remove difficult to reach plaque and calculus, and checkups to monitor the condition of your gums. You can also lower the risk of reoccurrence with improvements in diet and life-style (such as quitting smoking). Instituting better hygiene and lifestyle habits, as well as keeping alert to any signs of recurring disease will go a long way in preserving your teeth and overall oral health.
If you would like more information about periodontal disease and its effect on your health, please contact Dr. Nick Pournaras by calling (803) 794-5430 to schedule an appointment for a consultation. You can also learn more about this topic by reading the Dear Doctor magazine article "Warning Signs of Periodontal (Gum) Disease."
Related to This