Dreaming of White Teeth for Christmas?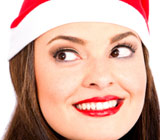 The holidays are traditionally a time when friends and family from near and far can get together and make merry. In this joyful season, many folks look forward to re-connecting with old friends… and maybe making new ones. But if you've been hesitant to show your holiday smile because your teeth are less than pearly white — then why not stop fretting: Did you know that your teeth could be dramatically brighter after just one visit to the dental office?
With in-office tooth whitening, it's not to late get dazzling white teeth in time for the holidays! Our professionally-administered whitening procedure is far different from over-the-counter (OTC) or even take-home treatments. These treatments can be effective — but they typically take weeks to produce noticeable results. Using an in-office treatment, your teeth can be lightened up to ten shades in about an hour!
Before you begin any whitening system, however, it's important to find out what's causing your teeth to look dull in the first place. Otherwise, whitening teeth is like papering over a hole in the wall: it hides the defect, but doesn't fix the problem. We start by performing a through exam to check for hidden trouble, such as a root-canal problem or another issue. After the exam, we can begin the whitening treatment.
The reason our in-office procedure works so well is the high concentration of the whitening gel. When it's done under professional supervision, whitening gel may contain 35-45% of the active ingredient, as compared to about 6-10% in take-home or OTC products. Of course, during the treatment, we constantly monitor the whitener's action, and ensure that the lips, gums, and other mouth parts are protected from exposure to chemicals.
Numerous studies have shown that tooth whitening is generally a safe, conservative, and effective procedure. When it's carried out under the supervision of trained professionals, you have the opportunity to get the most dramatic results in the shortest time. So if you've been dreaming of white teeth for Christmas — why not give us a call?
If you have questions about tooth whitening, please contact Dr. Nick Pournaras by calling (803) 794-5430 to schedule an appointment for a consultation. You can learn more in the Dear Doctor magazine articles "Teeth Whitening" and "Important Teeth Whitening Questions Answered."
Related to This