Straightening Teeth can Lead to a Better Smile and Better Oral Health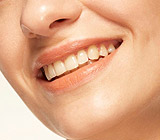 The perception that orthodontics is mainly for children or teenagers is changing rapidly. The number of adults seeking treatment for misaligned teeth is on the rise, especially with the development of less intrusive treatments like clear aligners.
Still, as an adult you may be wondering if having your teeth straightened is really worth the effort. There are good reasons to consider orthodontic treatment even when your teen years are well in your rear view mirror — and improving your smile is only just one of them.
To be sure, smile enhancement is an important reason. We place a high value on presenting our best appearance; indeed, our self-assurance and esteem suffers if we feel we have a less than pleasing smile. Adults who improve their smiles through orthodontics typically see a rise in confidence and an improvement in life attitudes that can have a positive impact on their social, career and financial development.
But there is another reason: as a general rule, misaligned teeth do not function as well. Biting, chewing and speaking may be more difficult. Over the long-term misaligned teeth and the resulting poor bite can have an adverse effect on nutrition, social skills and normal tooth wear.
What's more, misaligned teeth are more difficult to clean even with conscientious daily hygiene. Despite your best efforts, this can lead to increased plaque that causes tooth decay and periodontal (gum) disease. In regard to gums, misaligned teeth may be more prone to receding gums which further exposes teeth to harmful bacteria. Realigning teeth can vastly improve dental hygiene.
As with considering any dental procedure, the first step is a complete dental examination to measure the level of misalignment, as well as the current health of your teeth and gums. After that, we can discuss your orthodontic options for not only correcting your smile, but improving your oral hygiene which can have a pronounced improvement in your oral health as well.
If you would like more information on the purposes of orthodontic treatment, please contact Dr. Nick Pournaras by calling (803) 794-5430 to schedule an appointment for a consultation. You can also learn more about this topic by reading the Dear Doctor magazine article "Why Straighten Teeth."
Related to This