Oral Piercing Can Lead to Problems With Your Teeth and Gums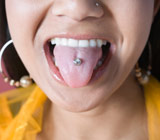 Although sometimes controversial, body piercing has exploded in popularity, especially among young people. Aside from the social debate about such practices, there are health risks to consider. Oral piercings, in particular — especially of the tongue — could have an adverse effect on your dental health.
The trouble begins with the piercing procedure itself. The tongue is composed of a number of muscle groups that given its wide range of function require a lot of energy. To supply this energy the tongue has a large network of blood vessels; during a piercing it's not uncommon for profuse bleeding to occur. The tongue also contains a lot of nerve fibers — a piercing may result not only in severe pain, but in possible nerve damage too.
The tongue bolt, the most common tongue piercing, can cause a lot of damage in the mouth during wear, such as tooth chipping and increased sensitivity. It can also interfere with oral hygiene and contribute to the growth of tooth decay and gum disease. And, as with any cut or abrasion to soft tissue, piercings increase the risk of infection.
There are also issues if and when you decide to give up the tongue bolt — fortunately, though, not to the same degree as during wear. Cuts to the tongue tend to heal quickly, so the piercing hole may fill in spontaneously. In some circumstances, however, a surgical procedure (similar to one performed on large ear piercings) may be required to repair the piercing hole.
For the long-term sake of your oral health, we would advise against having your tongue or lips pierced. And, if you already have a piercing, please consider giving it up — in the long run you'll be doing your teeth, gums and other tissues in your mouth a favor.
If you would like more information on oral piercing and its effects, please contact Dr. Nick Pournaras by calling (803) 794-5430 to schedule an appointment for a consultation. You can also learn more about this topic by reading the Dear Doctor magazine article "How to Help Your Child Develop the Best Habits for Oral Health."
Related to This