Replacing All Your Teeth: Know Your Options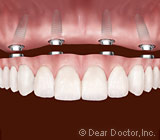 In this day and age, no one should have to live without teeth. Edentulism (toothlessness) is a debilitating problem that modern dentistry can solve in several ways.
The most inexpensive option is removable dentures, which are false teeth you take out at night. Wearing them can take some getting used to, and they can sometimes slip out of position. This brings us to a second option: implant-supported removable dentures. Simply by placing a few dental implants in your jaw, we can make removable dentures more stable and reliable so that they don't slip when you talk or eat. It's an excellent solution, but there's actually an even better one: fixed dentures or bridgework. By placing as few as four dental implants in both your upper and lower jawbones, we can give you an entire new set of teeth that feel just like your own and never have to be removed.
If this sounds complicated, it really isn't. Dental implant surgery is a routine procedure done right here in the dental office, usually under local anesthesia. The implants themselves are very small titanium posts that serve as substitute tooth roots. But instead of anchoring natural teeth, implants attach to a set of lifelike prosthetic teeth — custom-made just for you. These replacement teeth are referred to as "fixed dentures" or "fixed bridgework" because they are permanently attached. It's the next best thing to having your own teeth and an option we believe is optimal in the right circumstances.
Sometimes it's even possible to remove the last of a person's failing teeth and place implants on the same day. A temporary set of new teeth may also be attached to the implants then and there so that you don't have to leave the office without teeth. In a few months, when your implants have fused permanently to your jawbone, we will attach your new permanent teeth.
If you would like to learn more about options for replacing your missing teeth, please contact Dr. Nick Pournaras by calling (803) 794-5430 to schedule an appointment for a consultation. You can also learn more by reading the Dear Doctor magazine articles "Dental Implant Surgery" and "The Hidden Consequences of Losing Teeth."
Related to This