There's More Going on During a Dental Hygiene Visit Than you Think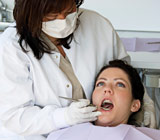 Those semi-annual visits to our office may seem as ordinary as vanilla. But actually a lot is taking place — your dental hygienist is making observations during your visit that will help us accurately assess your current dental health, as well as to remove disease-causing plaque. There really is more to it than a simple "teeth cleaning."
First and foremost, though, your safety is of paramount importance, because hygiene care could have an impact on your overall health. Before beginning any procedure, the hygienist may ask a few questions about your medical history, for example if you are at risk for heart disease or other serious health conditions, and take appropriate precautions.
The hygienist will then carefully observe the outside of your mouth, checking your skin and lips for anything unusual like sores or tenderness. (These could be early indications of oral cancer.) The hygienist will then move to the inside of your mouth, probing the gum tissues for signs of swelling or bleeding, telltale signs of periodontal disease. They will also examine between the teeth looking for any detachment of the gum tissue, or for other signs of tooth loss.
The next step, scaling and polishing, entails more than providing you with that ultra clean mouth feeling you've come to expect from a dental cleaning. Scaling removes plaque built up in areas that are difficult to reach with regular brushing and flossing; polishing removes stains from teeth. The hygienist also uses this opportunity to assess the effectiveness of your personal hygiene efforts: we can then make recommendations for improvement, if needed.
Above all, your dental hygiene visit is customized to your individual condition. The personalized care you receive from your hygienist is the pathway to better oral health, both now and in the future.
If you would like more information on how regular hygiene visits can have a positive effect on your oral health, please contact Dr. Nick Pournaras by calling (803) 794-5430 to schedule an appointment for a consultation. You can also learn more about this topic by reading the Dear Doctor magazine article "Dental Hygiene Visit."
Related to This