Dental Implants: an Exciting, Effective way to Replace Lost Teeth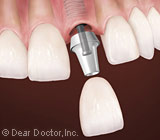 The search for suitable replacements of lost teeth has been going on for thousands of years. The dental implant has brought dentistry tantalizingly close to that ultimate dream — a permanent set of life-like, functional teeth to replace original teeth that have been lost.
A dental implant is actually a tooth root replacement. It's made of a titanium alloy, which has an amazing osteophilic (bone-loving) relationship with bone tissue. Not only is it readily accepted by the body, titanium's elemental makeup fosters a process known as osseo-integration, a biochemical fusion of bone cells to an oxide layer on the metal's surface. Given time, bone will permanently adhere to titanium.
The treatment begins with a threaded titanium post (or posts) surgically implanted at the missing tooth location. Over a few months, the bone integrates with the titanium to form a strong bond. An intermediate connector known as an abutment is then screwed into the post, to which we cement or screw in a porcelain crown, made to match the color and hue of the visible portion of the adjacent teeth. If done properly, the new crown can't be readily distinguished from the surrounding natural teeth.
Once a "one size fits all" application, dental implants in a variety of shapes and sizes have evolved into over forty different types to match a variety of dental situations, including single or multiple tooth replacements, fixed and removable bridge combinations and over-dentures. While most implants continue to require a waiting period before the final crown attachment (to give the bone time to integrate with the titanium), innovations are emerging that allow for immediate "loading" — affixing the crown at the same time that the titanium post is implanted.
While the technology of dental implants continues to progress, current treatments are extremely effective. Although they require no small commitment of time and money, the result can be years of use and a beautiful, new smile.
If you would like more information on dental implants, please contact Dr. Nick Pournaras by calling (803) 794-5430 to schedule an appointment for a consultation. You can also learn more about this topic by reading the Dear Doctor magazine article "Dental Implants."
Related to This